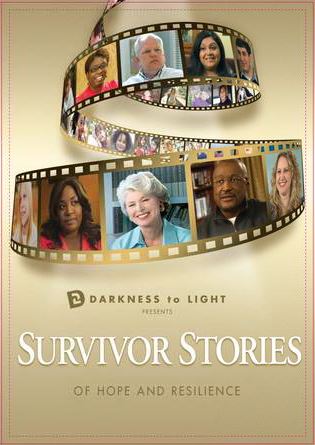 Darkness to Light is proud to unveil, Survivor Stories of Hope and Resilience. Survivor Stories features all 8 survivors from Stewards of Children, sharing their personal experiences. Each unique story provides a deeper look at how these survivors portrays the message of hope and resilience.
Guerry Glover
"Abuse happens..It can unravel and cause lots of damage, or you can stop it, interrupt it, and limit the collateral damage."
Click here to watch Guerry's story.
Margaret Hoelzer
"The worst thing that sexual abuse does to people is it takes away your sense of value."
Click here to watch Margaret's story. 
Sylvia Goalen
"I've been married for 10 years. It's taken that long to figure out that sex is not just something you do. Sex is a special bond. Someone took that from me."
Click here to watch Sylvia's story. 
Marilyn Van Derbur
"The one thing that I knew as a child is that there was no hope for me of it stopping."
Click here to watch Marilyn's story.
Souraya Pinkston
"I had a lot of resentment towards my mom for years, because I could not understand how she didn't know this man was sneaking out of her bed and into mine."
Click here to watch Souraya's story.
Wesley Hogue
"I knew I was going to have a blast, until nighttime. Then he was going to make me take my clothes off and lay in bed while he touched me."
Click here to watch Wesley's story.
C. David Moody Jr
"Life is okay. You will get through this. You can make it, regardless of how hard it is right now. Life is still good. You still have a reason to live."
Click here to watch David's story.
Keisha Head
"At the age of 4, I started to be sexually abused by some adult cousins. I didn't tell them because I was threatened by them, and as a child you don't know that's wrong."
Click here to watch Keisha's story.
Visit our online store to purchase the two disc DVD set.
For more information on preventing child sexual abuse in your community, visit The 5 Steps to Protecting Our ChildrenTM, or take D2L's award-winning Stewards of Children® prevention training.