Read the entire article from ESPN here.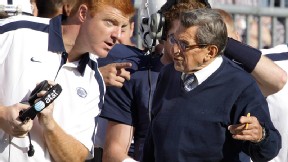 A former assistant football coach and key prosecution witness in the upcoming conspiracy trial of three former Penn State leaders accused of covering up Jerry Sandusky's sexual abuse crimes told his players during a November 2011 closed-door meeting that he, too, was sexually abused as a boy, sources told ESPN The Magazine.
Mike McQueary confided to a dozen Nittany Lions players that he could relate to the helplessness of the young boy he had seen with Sandusky in a campus shower a decade earlier because he was abused as a boy, according to two players who attended the meeting and four others with knowledge of it. McQueary did not tell the players who had abused him or when or how long the abuse had occurred, the sources said.
The revelation is included in a profile of McQueary published in the upcoming edition of ESPN The Magazine.